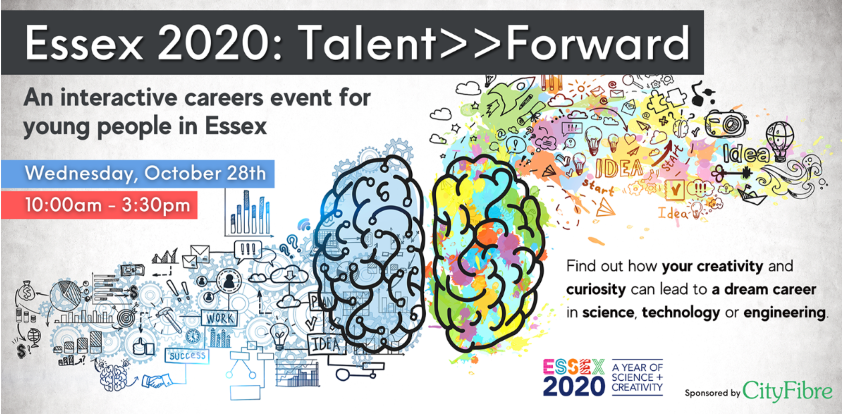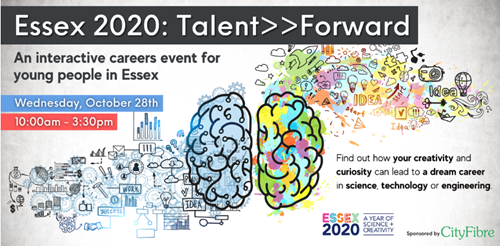 Find out how your creativity and curiosity can lead to a dream career in science, technology or engineering.
Essex 2020: Talent >> Forward is a unique, interactive careers event sponsored by City Fibre.
Taking place on 28th October, Talent >> Forward will give 14-25 year olds from the county an opportunity to have honest and inspiring conversations about the current and future world of work – with industry professionals in science, technology, engineering, the arts and mathematics.
Presentations, talks and Q&A across three sessions during the day (details below) include local industry professionals from:
LEONARDO >> MICROSOFT >> INTO GAMES >> HAYNARD LTD >> SOUTH ESSEX COLLEGE >> ENGINEERING DEVELOPMENT TRUST >> NATWEST >> CREATIVE CO-OP >> CITY FIBRE >> FOCAL POINT GALLERY >> TELEDYNE E2V >> NHS >> GLOBAL MARINE GROUP >> GHSCIENTIFIC >> AMAZON
Read on for session details or BOOK NOW
Essex 2020: Talent >> Forward
An interactive online careers event for young people
SESSION ONE (Professionals Playlist) – 10:00 – 10:30
Tune in to a livestream of pre-recorded videos and presentations from industry professionals from:
LEONARDO >> NHS >> GLOBAL MARINE GROUP >> CREATIVE CO-OP.
SESSION TWO (Industry Q&As) – 10:45 – 14:00
Your chance to ask questions of professionals from 5 different industries in a smaller, exclusive Zoom session (not recorded or streamed).
10:45 – 11:10 – 

Technology with Teledyne e2v

11:30 – 11:55 – 

Telecomms Engineering with City Fibre

12:10 – 12:35 – 

Games Design with Into Games

12:50 – 13:15 – 

Digital Business with Amazon

13:30 – 13:55 – 

Sustainability and Environment with Haynard Ltd
SESSION THREE (Careers Roundtable) – 14:30 – 15:30pm
A facilitated discussion and Q&A with a panel of special guests.
Aideen Sadler – City Manager (Southend), 

City Fibre

Rebecca Brindle – Digital Lead, 

Natwest

Glen Robinson – National Technology Officer, 

Microsoft

Karly Withers – Curriculum Manager (Animal Care & Science), 

South Essex College

Hayley Dixon – Deputy Director, 

Focal Point Gallery

Dr. Hephzi Tagoe – Research Scientist, 

GhScientific

Dr. Ole Kock – Product Development Manager (Space and Quantum), 

Teledyne e2v
28th October
This Essex 2020 event is facilitated by always possible and kindly sponsored by City Fibre.