Home >
Clacton Green Lodge
Clacton Green Lodge
Activities
Lads Need Dads
Tuesdays 6pm – 9pm
1st & 2nd Fridays of the month 
Lads Need Dads is a group set up for young males 12 – 15 who do not have a positive male role model in their lives. To access the group, a referral is made through the facilitator and if suitable, they are offered a place on the appropriate programme; Equip, Engage, Inspire and Ambassadors.
Please contact Sonia Shaljean: Sonia@ladsneeddads.org  for more information.
Simply the Best - Special Educational Needs group
Monday 6pm to 8pm
Monday nights are always a laugh with Ryan and Marianne. Arts and crafts, sports, nintendo switch, drama games and team building. All of these can be found in our Monday night session, plus more! 
To find out more contact Ryan Huttley at Ryan.huttley@essex.gov.uk 
Impact 
Join us every tuesday - 5 to 7pm -  for a fun filled, chilled out youth club for anyone aged 11 to 19. Come along to make use of our pool table, nintendo switch, or even the brand new Oculus! 
For more information please contact Sinead.james@essex.gov.uk or Nikki.daniel@essex.gov.uk 
Action for Family Carers (AFFC) 
4:30 – 6:30pm 3rd & 4th Fridays of month 
For information please contact Chris Vince: 
Chris.Vince@affc.org.uk 
07702858656 
The Outhouse (LGBTQ+) 
4:00 – 6:00pm - session runs fortnightly
For information please contact Fern Lovett: 
Fern Lovett - Fern.Lovett@theouthouse.org.uk
Summer 2023! 
This year we are holding an ECO summer programme - all about sustainability, upcycling and protecting our planet! Contact Nikki.daniel@essex.gov.uk to find out more. :)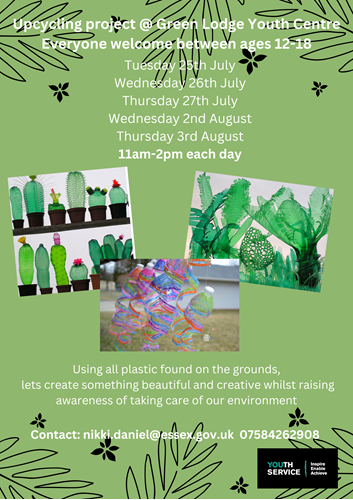 Accessibility
Information on access to Clacton Green Lodge can be found on AccessAble, formerly Disabled Go.
Starting a new club 
Thinking of starting a new club? Got ideas about what the community needs? We may be able to help! 
For any enquiries about Harwich or Highwoods please contact Paul.phillips@essex.gov.uk. 
For the Clacton area contact Nikki.daniel@essex.gov.uk. 
And for any other Colchester or Stanway queries please contact Ben.randall@essex.gov.uk. 
Clacton Green Lodge 180 Old Road
Clacton-on-Sea
CO15 3AY
What3Words ///windy.alert.slowly