Home >
Plan B Traineeship
Are you aged between 16 and 24 and not in college, work or training? 
If so, we can help you gain the skills you need to move on to your next destination. 
Our Plan B Traineeship offers comfortable, small classroom learning environments working with our dedicated youth worker staff who are there to help maximise your potential and prepare you for the future.  Not only this, they continue working with you up to 6 months after you finish so you can feel safe knowing that once the programme has finished our staff will continue to support you.  Our team are determined to give you the opportunity to thrive and supply you with the tools to enable your own success.  This is why 8 out of 10 people who come on to Plan B go on to get a job or college place.
What is Plan B?
The programme is a 12-week traineeship which runs 3 days a week and is delivered in our centres across Essex.  Our Plan B's have three start dates during the year September, January and May so if you apply, you can be sure that you won't have missed your chance to attend our programme.  Alternatively, we may have an online delivery option running for those that are unable to attend centres due to travel distances (please enquire using the details below to see if this is being offered at the time you wish to start).
During the programme you will get:
a chance to gain English and Maths qualifications.
a work experience placement.
an interview or feedback from the employer.
a chance to gain qualifications in City & Guilds Level 1 Employability Skills, Level 1 Health and Safety in The Workplace, Level 1 Food Safety.
careers guidance from our fully qualified careers advisers.
sessions that will help improve your self-esteem, motivation and confidence to make decisions.
help with transport costs to the centre if needed.
continue receiving child benefits if eligible
Why you should do it?
Take a look at what some of our former Plan Bers had to say:
"The difference it has made is now I am in College and employed because of Plan B and they also gave me more confidence in myself." Yasmine, Chelmsford Plan B
"Plan B helped me get back on track from not knowing what I wanted to do and made me realise I have people who can support me even after the course had finished." Charlotte, Chelmsford Plan B
Where are the Plan B locations?
To make sure that our Plan B's are accessible to as many young people as possible across Essex, we have threedifferent centres running the programme during each cohort (September, January and May).  Here are some of the locations we have held Plan B recently:
Clacton
Colchester
Braintree
Chelmsford
Maldon
Basildon
Harlow 
Plan B calendar 2022-2023 (locations subject to change)
September 2022-
Locations- Colchester, Chelmsford, Basildon
Start date- w/b 26th September 2022
Deadline for applications- 7th October 2022
January 2023-
Locations- Harlow, Chelmsford, Basildon
Start date- w/b 23rd January 2023
Deadline for applications- 3rd February 2023
May 2023-
Locations- Clacton, Chelmsford, Basildon
Start date- w/b 15th May 2023
Deadline for applications- 26th May 2023
How to apply
Please complete our referral form attached (our team will then get in touch with you to discuss Plan B and invite you in for a taster day before the next start date so you can see what it's like).
If you have any questions about the Plan B Traineeship, please contact james.bonvini@essex.gov.uk.
Please also see our flyer below for you to look at.  Alternatively, feel free to use this to promote to anyone you feel may benefit from this programme.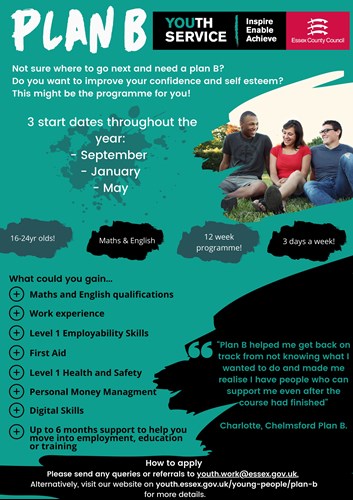 WE LOOK FORWARD TO HELPING YOU ON YOUR JOURNEY!