Home >
The Gold DofE Award
The Gold DofE Award
Go the extra mile and start your Gold DofE Award. You can register for the Gold Award once you turn 16 years old. 
Start your DofE award at any point in the year and make connections and friends outside of your school. And there's no restrictions as to when or where you can join. We run the Gold Award from all locations. 
What age can I start?
You can register for the Gold Award once you turn 16 years old. You can start your Gold award at any point between the ages of 16 and 24 years old. 
How do I start?
You can register and start your DofE journey at any point in the year. You can get started with the physical, volunteering and skill sections when you receive your eDofE account and welcome pack. If you want to get set-up on eDofE ahead of your first training session, watch this eDofE training video. There are lots of recommended videos to watch, so do take a look at the full training list.
What's involved?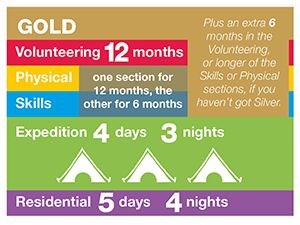 How much is it?
Registration for the Gold award is £159. This registration fee includes an eDofE number, DofE welcome pack and all training sessions. The expedition training day and the practice and qualifying expeditions are an additional cost.
Your qualified and experienced DofE leader will support you through your DofE journey. They will prepare you for your expedition plus provide one-to-one support with eDofE and give guidance on section activities. 
Expedition Snapshot - what to expect 
Training day – 1 full day
This will be one full day which is instructor lead where you will learn the practical skills to complete your qualifying expedition. This will include putting up a tent, cooking on a stove and emergency procedures.
Two walking expeditions (Practice and Qualifying: 4 days / 3 nights)
As part of a team, you'll plan and complete two fun and challenging expeditions. You'll navigate and hike in the countryside, camp under the stars, cook in the outdoors and be self-sufficient. The practice and qualifying expeditions take place in the spring and summer.
Expedition costs 
Training day: indicative cost £15
Practice expedition: indicative cost £250
Qualifying expedition: indicative cost £300
Costs can vary at the time of booking due to the mode of transport, staff numbers and campsite costs.
Get in touch
Contact our friendly DofE Award Team: DofE@essex.gov.uk