Home >
Current Opportunities
Opportunities Across the County


The Prince's Trust Essex
Please find information about all the latest programmes in their current newsletter. These include:
Health & Social Care - Information sessions, mentoring, getting hired and evening & weekend support
Getting started in a cyberfirst world (starts 17th April)
Get started with horse racing (starts 24th April)
Team programme - build confidence, gain qualifications, 2 week work placement (12 week course)


Care Recruitment Service (Essex County Council)
New recruitment service to match young people that wish to work in the care sector with the employers that are recruiting/ have gaps.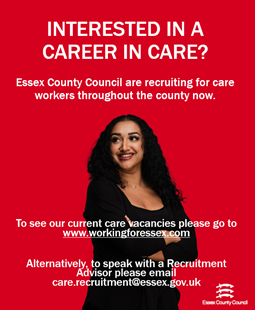 Wilderness Foundation
Young people ages 15–21 who struggle with their mental health, family, social, and personal problems find a new way of living through the Wilderness Foundation's flagship project "The TurnAround Project". 
TurnAround is a structured nine month long self-development and employability project for young people aged from 15 to 21 years old. The aim is to enable each young people to make positive change to their lives using nature as a catalyst. They support each young person with their own individual needs which is what makes the project a success.
Contact: Mark O'Sullivan- mark@wildernessfoundation.org.uk

Central Training Group
Netmatters- Junior Web Development Online Programme - 14 Weeks
This programme will leave you equipped with the tools necessary to become a junior web developer - No experience necessary. You will be supported into employment with assistance writing your CV and cover letters, as well as help applying for jobs. Programme is ongoing and is a great opportunity to access employment via the I.T industry.
Online Functional Skills - These cannot be taken as a 'stand-alone' offer but must be paired with one of their other online courses. There are quite a few options to choose from. This could be a very strong option for young people that are looking to develop their skills and add more qualifications to their CV. 
Contact: 0800 783 2901 or courseenquiries@centraltraininggoup.com

Runway Training
Online L1 & L2 Maths & English Functional Skills course available.
Some fully funded Industry qualifications through knowledge based online courses.
Contact: essexneets@runway.co.uk
Events
Spectrum Works - Jobs and Wellbeing Fair - Thursday 30th March 10am -3pm - Jobcentre Plus, Chelmsford.
Autism? ADHD? Neurodiverse? Come and explore the wellbeing support available through our amazing organisations. Looking for that first job or next step in your career? Come and meet our Neurodivergent friendly employers to discuss your perfect role.


SEND Roadshows (Essex County Council SEND IASS)
You can speak to professionals who work with Special Needs and Disabilities (SEND) at regular in person events called SEND roadshows.
You can come to a SEND Roadshow to:
understand what to do if you think your child may need help
speak directly to professionals about help available with learning, health and care
find out about local support, such as parents' groups
meet other carers and parents
You can drop in without booking. There are additional workshops available, that you can book online.
Mid Essex took place on Tuesday 14th March
North East will be taking place on Tuesday 28th March from 9.30am to 3pm at Jobserve Community Stadium
West will be taking place on Wednesday 19th April from 9.30am to 3pm at The Harlow Hotel
South will be taking place on Wednesday 26th April from 9.30am to 3pm at The Holiday Inn, Basildon
Find out more and book SENDIASS workshop on the Essex Local Offer.


Active Essex - Cost of Living Support
We know people are worried about rising costs and may be struggling. This document outlines a range of services, resources and additional information to help the county during this difficult time.
Opportunities in your Local Area