Home >
Current Opportunities
Opportunities Across the County

Essex Opportunities - Summer Leavers Apprenticeship Bulletin


The Prince's Trust Essex
Please find information about all the latest programmes in their current newsletter. These include:
Health & Social Care - Information sessions, mentoring, getting hired and evening & weekend support
Get Hired in Health & Social Care - Online programme 
Enterprise - be your own boss! - Online course (13 -14 June & 27-28 June)
Get Started in Digital Media - Online course (19 - 23 June) Taster Day 13 June
Team Programme - build confidence, gain qualifications, 2 week work placement (12 week course)
Development Awards - Funding to support you into work


Creative Sport & Leisure - Active Apprentice
EARN - Pre-Employment Programme - Earn up to £1250 and learn new skills!
This 16 week programme will provide you with the skills you need to start your dream career, combined with experience working with employers in your local area. You must be aged 16-18 (or 25 if you have an EHCP) and currently not in full-time employment or funded education. It includes:
Paid employment for 7.5 hours per week
Work experience with chosen employer(s)
Up to £30 per week travel expenses will be pain additional to your earnings
Combination of online and face to face learning - Maths and English functional skills included
Face-to face learning locations in Rayleigh, Witham, Braintree and Southend. Possibility of other locations depending on demand - please enquire
Pathways include: sport & physical activity, education, media, community, leisure & coaching
Referrals: Ongoing until end of June 2023.
For more information please visit their website or call 01268 552218 or email info@activeapprentice.co.uk.


Youth Service Summer Programme 2023
Join your local Youth Centre for an action packed three days of fun, challenge, and games. Free to attend, including lunch.
After the three days you can complete an optional two day/one night expedition experience in the Essex countryside taking place on Tuesday 22 and Wednesday 23 August 2023.
Find out more and register your place on the Summer Programme.
Care Recruitment Service (Essex County Council)
New recruitment service to match young people that wish to work in the care sector with the employers that are recruiting/ have gaps.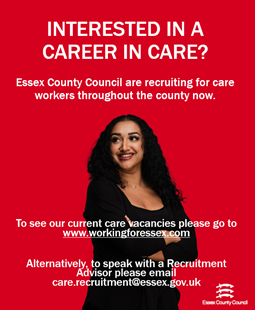 Wilderness Foundation
Young people ages 15–21 who struggle with their mental health, family, social, and personal problems find a new way of living through the Wilderness Foundation's flagship project "The TurnAround Project". 
TurnAround is a structured nine month long self-development and employability project for young people aged from 15 to 21 years old. The aim is to enable each young people to make positive change to their lives using nature as a catalyst. They support each young person with their own individual needs which is what makes the project a success.
Contact: Mark O'Sullivan- mark@wildernessfoundation.org.uk

Central Training Group
Netmatters - Junior Web Development Online Programme - 14 Weeks
This programme will leave you equipped with the tools necessary to become a junior web developer - No experience necessary. You will be supported into employment with assistance writing your CV and cover letters, as well as help applying for jobs. Programme is ongoing and is a great opportunity to access employment via the I.T industry.
Online Functional Skills - These cannot be taken as a 'stand-alone' offer but must be paired with one of their other online courses. There are quite a few options to choose from. This could be a very strong option for young people that are looking to develop their skills and add more qualifications to their CV. Courses include:
Business Administration - Digital Skills - Hairdressing & Beauty - Web Development - Filmmaking & Screenwriting - Customers Service - Employability Skills
Contact: 0800 783 2901 or courseenquiries@centraltraininggoup.com

Runway Training
Online L1 & L2 Maths & English Functional Skills course available.
Some fully funded Industry qualifications through knowledge based online courses.
Contact: essexneets@runway.co.uk


Essex Bystander Interventions Awareness
This online module has been commissioned by Essex County Council.
It has been designed to empower residents to intervene in a safe and appropriate way when they witness situations that are uncomfortable, threatening, dehumanising, or distressing for the women of Essex. As an individual in the community, you can play a key role in preventing sexual harassment and the trauma it causes.
This session is open to anyone over 18 in the county. The eLearning module is approximately 45 minutes in duration. 


Active Essex - Cost of Living Support
We know people are worried about rising costs and may be struggling. This document outlines a range of services, resources and additional information to help the county during this difficult time.
Apprenticeship of the Week
Maycast-Nokes Precision Engineering Limited - Engineering Apprenticeships - Halstead
Would you like a career in the aerospace industry? Maycast-Nokes is proud to offer 6 apprenticeship positions.
We are a manufacturer of Aerospace / Defence / Commercial and industrial aluminium & steel castings. We can offer an exciting and stable career within a great working atmosphere.
Role is a craft apprenticeship. You will spend the majority of your working day working within either our Investment / Lost Wax foundry or our Sand & Gravity die foundry.
As an apprentice you will;
Work as part of the team in all of our Foundries
Moulding cores / moulds
Wax making / mounting
Hands on approach to learning taking instruction, direction from trainers, supervisors and management
Completing college work both inside and outside of working hours
Qualifications required: Passes in English Language and Mathematics at Grade 4 or above.
Full-time - 8 hour shift - Salary from £6.00 per hour.
If you would like to know more about their apprenticeship and trainee positions click here or download our Apprenticeships brochure and job application forms on their website.
Events
British Army Apprenticeships Webinar - Amazing Apprenticeships
The British Army is committed to providing young people with valuable career opportunities through its well-established apprenticeship programme. You'll gain invaluable insight into the extensive range of apprenticeships, the Army Foundation College Harrogate (AFC) that caters to 16 – 17 year old's, and the application process. You will also hear from current/past apprentices on their experiences of an apprenticeship and how it has impacted and inspired their career so far.
Wednesday 14 June 2023 - 4pm - 5pm. Register here.


* Opportunities on this page were last updated on 05/06/23. Next update due 12/06/23.
Opportunities in your Local Area